Sparkles in spaaaace
100021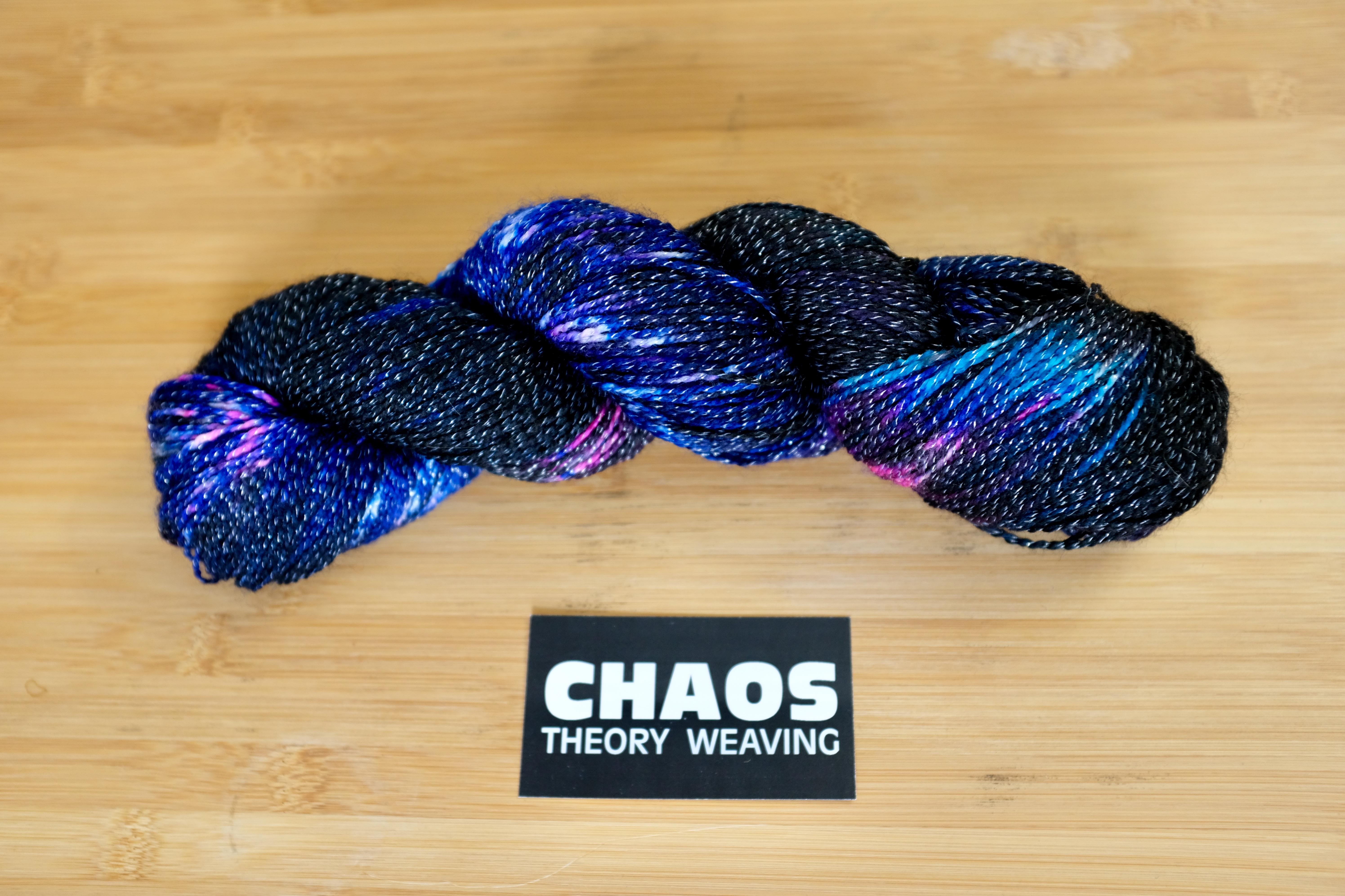 Name: Sparkles in spaaace
Fiber: 90% Superwash Merino wool, 10% Lurex (non metallic sparkle thread)
Weight: 2 ply. 411 yards per 100 grams. Sock weight.
Skein Size: 100 grams.
Care Instructions: Machine wash on cold, tumble dry on low. Do NOT bleach
Dirty Details: What more is there to say about sparkles in spaaaaace? I love this colorway. I use it in my weaving all the time. This is a selfish selfish colorway as I love having it around to just grab. Goes with anything. And... it... SPARKLES.

Yarn Base: This shimmery soft lux MACHINE WASHABLE, yes you heard me right yarn base is quickly becoming a staple in the Chaos yarns line. It's ridiculously soft even with the lurex sparkle thread running continuously throughout. The ply is on the looser side and it is a dream to weave with. Did I mention it sparkles? And is MACHINE WASHABLE. Ok cool.

All my photos are taken in the best lighting that I have at that particular time. I live in a 100+ year old house and there is a 15 minute window of decent natural light if the sun cooperates. The only editing I do on photos is to correct the horrible white balance of my cave of a house and to portray the yarn in as true to real life as possible.
This yarn is ready to ship. Once an item is paid for your order will be carefully packaged by yours truly and shipped out within 3 business days of purchase. If there is any delay in shipment you will be contacted. We are a family run business and sometimes things come up, life, vacation, sickness, herding cats, etc.
Please share what you make with this yarn. I am mostly a weaver who also loves dyeing yarn. Most of my dyeing is done in small batches, some will be repeated, some never again. All my ramblings about the yarns really are truly how they came about and how they were named. So if you wanna share what you make please find us on social media and tag away #chaostheoryweaving on IG.