Polyester Bride (underweight skein)
100023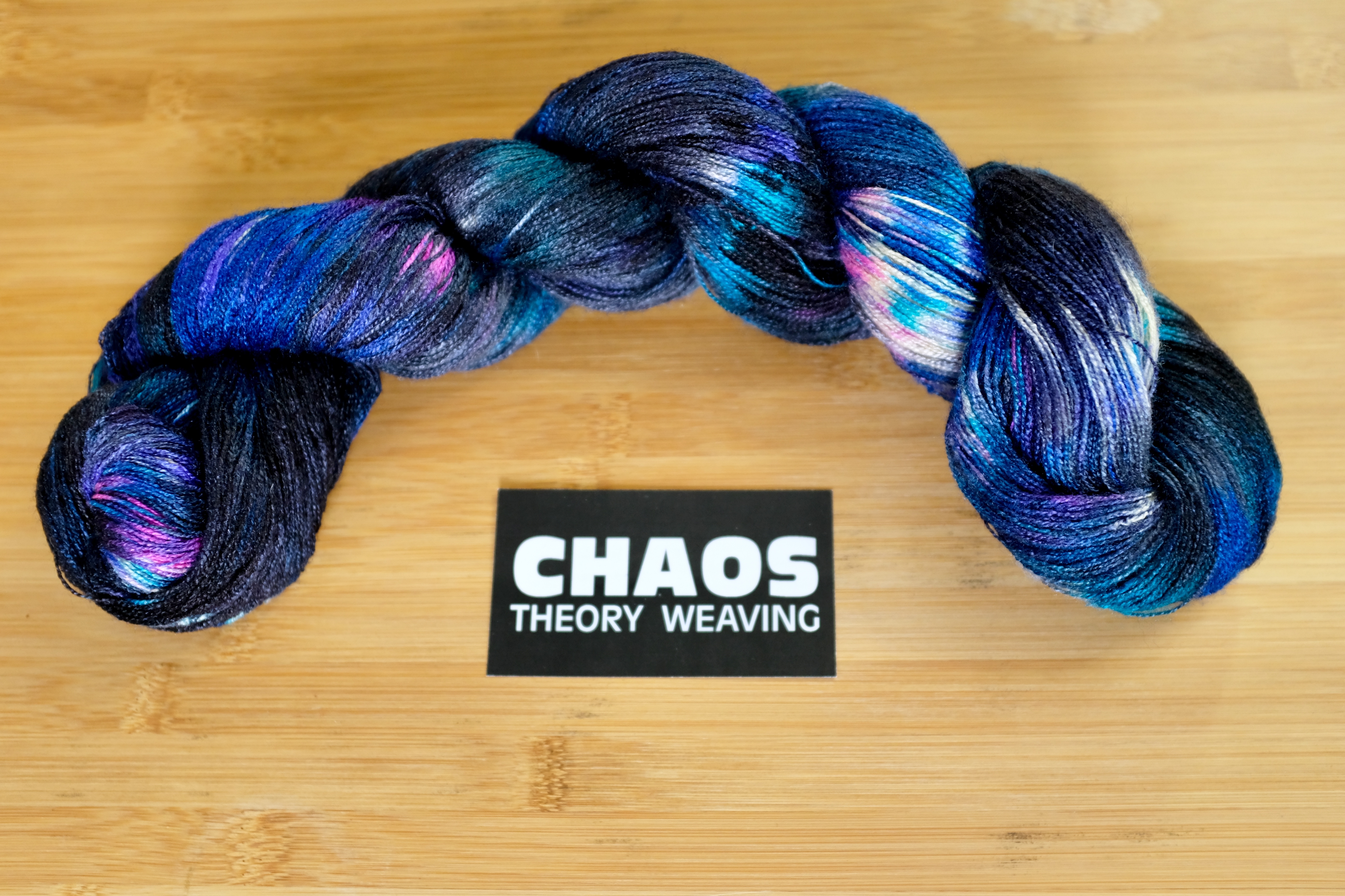 Name: Polyester Bride
Fiber: 100% unbleached Tussah silk
Weight: 2 ply. 826 yards per 100 grams. Lace weight. 15/2nm (3720 yards per pound
Skein Size: 90 grams.
Care Instructions: Machine wash gently on cool. Tumble low cool. Or hand wash.
Dirty Details: Why yes, I have always wanted to find alligator cowboy boots they just put on sale. And sometimes I guess I wish I could just flap my wings and fly... away.... from here..... ohhhhhhhhhhh... *breathe* Long story short as sometimes I do have a tendency to ramble. This song gets stuck in my head, a lot, especially when I dye yarn... this yarn in particular. So here I am singing this song over and over again chuckling at the thought of getting this song stuck in more peoples heads and then crickets. Nobody knows this song. Hubs and I grew up in the greater DCish area where a radio station in the 90's played this song over and over and over again and I guess we lived in this weird bubble of spacewhere the DJ at HFS really did want to be a Polyester Bride.

Yarn Base: Tussah. Silk. Omg. Hands down makes my weaving yarn favorites short list. This silk has such a soft squishy mac and cheese level of comfort to it. It's amazing.
All my photos are taken in the best lighting that I have at that particular time. I live in a 100+ year old house and there is a 15 minute window of decent natural light if the sun cooperates. The only editing I do on photos is to correct the horrible white balance of my cave of a house and to portray the yarn in as true to real life as possible.
This yarn is ready to ship. Once an item is paid for your order will be carefully packaged by yours truly and shipped out within 3 business days of purchase. If there is any delay in shipment you will be contacted. We are a family run business and sometimes things come up, life, vacation, sickness, herding cats, etc.
Please share what you make with this yarn. I am mostly a weaver who also loves dyeing yarn. All my ramblings about the yarns really are truly how they came about and how they were named. So if you wanna share what you make please find us on social media and tag away #chaostheoryweaving on IG.