Olive calls this Elsa, but I refuse
100020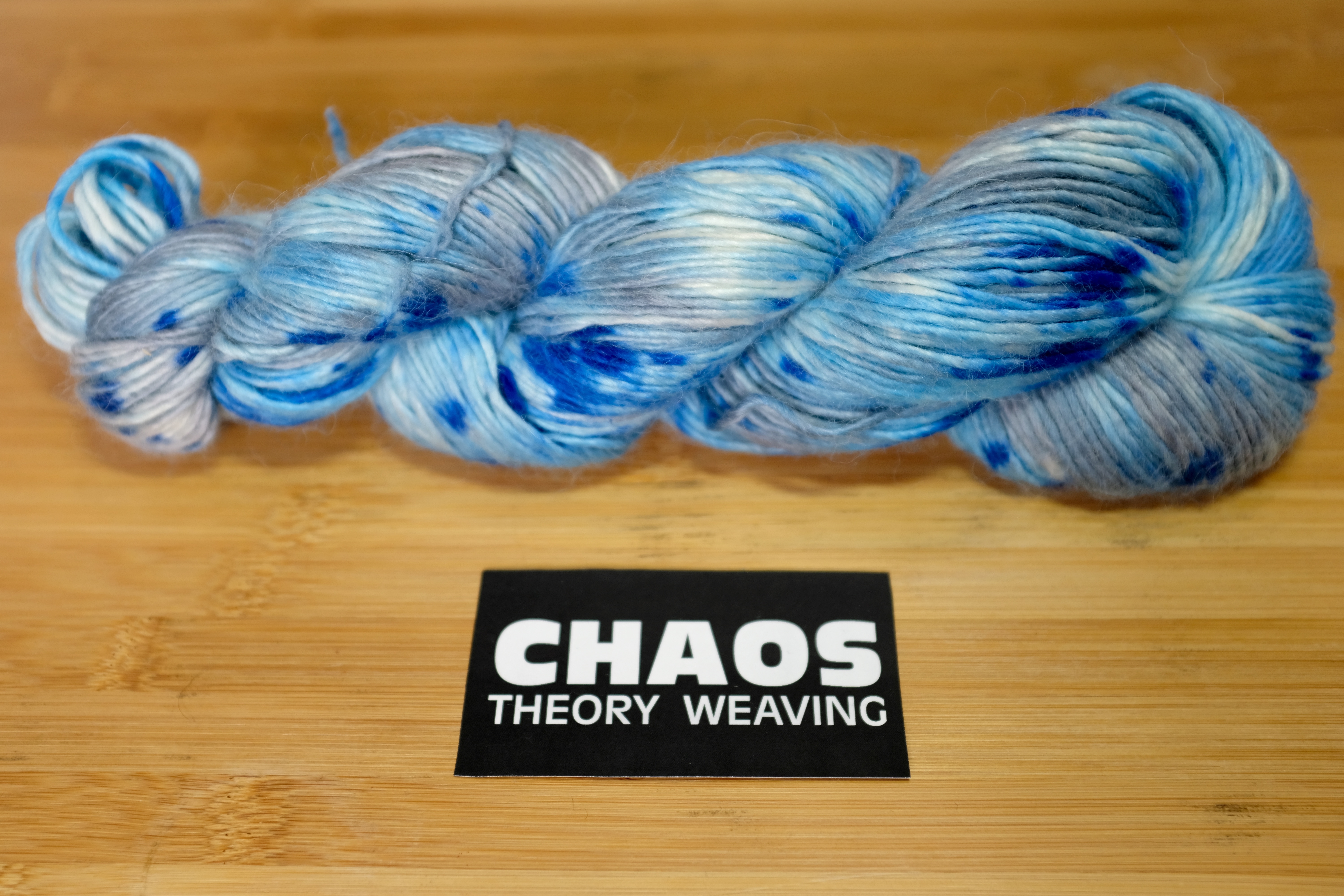 Name: Olive calls this Elsa but I refuse to.
Fiber: 40% baby (trust me this makes a huge difference) alpaca, 40% Merino wool, 20% silk
Weight: Single ply. 252 yards per 100 grams. Sock weight.
Skein Size: 100 grams.
Care Instructions: Hand wash gently in cool water. Lay flat to dry.
Dirty Details: So I dyed this awesome yarn for a friend, and I loved it so much that I dyed up a whole lot more. The yarn reminded me of zombie ice dragons with cold blue eyes and a giant wall of ice... and it was glorious... and loved it. Then the tiny one comes up and with one word all my dreams and mental images of ice dragons came crashing down and suddenly even though I tried really hard not to let it happen..... Olive calls this Elsa, but I refuse.

Yarn Base: Whatever you make with this yarn needs to be close to your skin. If you love a good single ply then seriously stop everything and grab this up. The baby alpaca smooths out the merino wool and gives the yarn just an amazing natural halo. The silk gives it all a nice slight sheen and adds strength. This yarn will make amazing things... or just snuggle it... which is what I like to do.
All my photos are taken in the best lighting that I have at that particular time. I live in a 100+ year old house and there is a 15 minute window of decent natural light if the sun cooperates. The only editing I do on photos is to correct the horrible white balance of my cave of a house and to portray the yarn in as true to real life as possible.
This yarn is ready to ship. Once an item is paid for your order will be carefully packaged by yours truly and shipped out within 3 business days of purchase. If there is any delay in shipment you will be contacted. We are a family run business and sometimes things come up, life, vacation, sickness, herding cats, etc.
Please share what you make with this yarn. I am mostly a weaver who also loves dyeing yarn. Most of my dyeing is done in small batches, some will be repeated, some never again. All my ramblings about the yarns really are truly how they came about and how they were named. So if you wanna share what you make please find us on social media and tag away #chaostheoryweaving on IG.